Go beyond with every Bead
Make your child

the genius they were born to become!
Cognito Abacus is an abacus based advanced cognitive skill enhancement program designed for children between ages 6 to 13 years.
Read more
The path to success
Course Structure
The course structure refers to the choice and sequencing of course content. This choice of topics and their organization support the learning objectives for the course. Our exclusive curriculum, combined with great workbooks and learning tools enable teachers to create great learning experience along with desired results.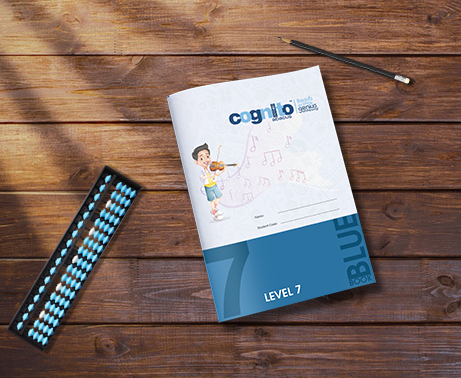 What are Cognitive Skills?
Unleash

your child's true potential
Cognitive skills are traits which define the ability of an individual to perform various activities associated with learning and problem solving. Each of these cognitive skills play an important part in the learning process.
Together, these skills give the child an advantage in the ever-competitive world. Cognito Abacus helps children enhance these critical cognitive skills.
Read more
Cognitive
Skills
Concentration
If a student pays attention to what the teacher is explaining in the class, the learning and understanding will be much better.
Listening Skills
Children with weak listening skills need more time to recognize and process the information they hear. They find it difficult to understand concepts and get frustrated.
Judgement
The ability to "think ahead" or anticipate the path or flow of a task. Foresee outcomes of certain steps, while solving a problem is "Judgement" cognitive skill.
Memory
Memory is the brain's ability to recall information, along with the conscious recall of the source and circumstances of this specific memory
Multitasking
The ability to execute more than one action or attending to two or more stimuli at the same time. This cognitive skill enhances the efficiency of a person. Multitasking is an essential factor for a student.
Comprehension
It is the ability to understand a new concept. This skill helps us learn and prepare us for the future.
Speed
Processing speed is one of the most important cognitive processes, which relates to fluency, or how fast we can think, understand, process, and react to the information received
We create a nurturing environment
for each child
Expand your child's horizon with the most advanced & holistic learning program.
Watch Video
What makes us different!!
Cognito Abacus USPs
Perfect Blend of Science and Yoga

At Cognito, while working on abacus, we use specific finger movements of both our hands which are similar to yogic mudras primarily Gyan Mudra and Shuni Mudra which are known for improving concentration, attention, and sharpening of memory.

Progressive Course Structure

Cognito's Course Structure has been meticulously designed to ensure that the child does not get confused with the corresponding school methodology. The growth is progressive and continuous. At any point of the time, the child is neither overburdened nor boredom sets in.

Well Designed Course Material

The Course Material has been designed keeping in mind that the children are intrigued and enjoy learning. The Course Material perfectly blends with the Course Structure and Lesson Planners of the Educator to ensure consistency across the network in the deliverance of the program.

Variety of Learning Tools

The success of any program lies in the hard work a child puts in. Cognito Abacus has developed several learning tools Offline and Online to give children numerous Practice Avenues. This will ensure better output from the child and ensure monotony does not set in.

Emphasis on Educator Training

Teachers are the Torch Bearers for any educational program. Therefore, the quality of teaching is very critical to a child's success. We put in a lot of effort to ensure that our Educator go through proper training, and refreshers.

CACTAS

CACTAS – Cognito Abacus and CenTre Administrative System, a mobile and PC based platform has been created for Parents, Educators, Franchisee to ensure seamless movement of information and feedback for effective management. This will ensure more time is spent on children rather than on administrative activities.

Multi-Faceted Student Events

At Cognito Abacus, we have planned several events like Competitions, Demonstration, Certifications, Proficiency Examinations for Students. These events give our children lot of exposure to face the real-life scenarios, pressure handling and prepare them for life ahead.

One World One Cognito

Once a child enrolls and becomes a part of Cognito Abacus, he/she will always remain one. With the facility of seamless transfer across the network, the continuity of the Cognito Abacus Program is maintained.

Knowledge Hub

A collection of Blogs and articles related to Cognitive Skills, Best Learning Practices, Scientific Reasoning supporting our Program for Parents, Educators and Franchisees. So that they could best contribute to the child's success.